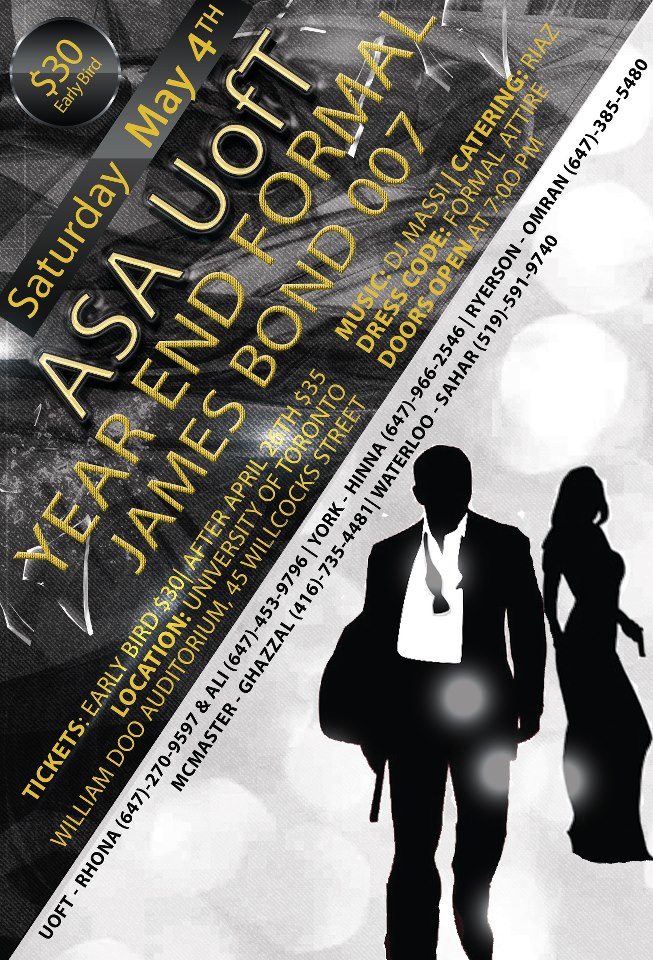 TOP SECRET: A High Stakes Assignment
Codename: Year End Formal
The ASA at U of T St. George invites you to the FINAL secret mission of the school year.
Your presence is requested on Saturday May 4, 2013 at 7 pm at our VIP event.
The place of meeting is at the William Doo auditorium at the University of Toronto.
"We don't expect you to talk about it…. We Expect you to ATTEND IT!!!"
Briefing notes:
• You may bring your partner, but do not disclose the nature of your mission
• Be prepared for any eventuality
• Mix and mingle
• All operatives to dress to impress
• Music will be provided by DJ Massi
• Food will be from one of the top caterers in town.
*** This message will self-destruct in 30 seconds! ***
Facebook: https://www.facebook.com/events/373826636064265/?fref=ts
————————————————————————-
Please contact one of the individuals – in order to get your tickets.
Rhona – UofT (647) 270-9597
Ali – UofT (647) 453-9796
Ghazzal -McMaster (416) 735-4481
Omran- Ryerson (647) 385-5480
Hinna- York – (647) 966-2546
Sahar – Waterloo (519) 591-9740