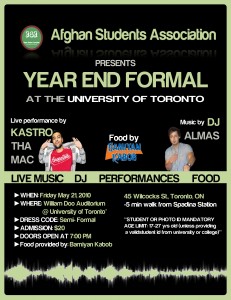 •★•★•★•★•★•★•★•★•★•★•★•★•★•★•★•★•★•★•★•★•★•★•★•★•★•★•★•★•★•★•★•★•★•★•★
ASA UofT IS HOSTING ITS BIGGEST AND BEST END OF THE SCHOOL YEAR FORMAL!!!
The Afghan Students Association at the University of Toronto is proud to announce the celebration of the end of the school year held at the WILLIAM DOO AUDITORIUM at University of Toronto on Friday May 21st 2010. This is an event welcoming all Afghans from all over the city!
——————————————–
This special night brings together Afghans in the community with one of the most versatile singers of our generation, *KICE SOROOR AKA KASTRO THA MAC*, to create an ideal night filled with fun and entertainment. The night will also include *DJ ALMAS* with dance and delicious Afghan foods provided by Bamiyan Kabob restaurant, all organized in an effort to make it the most memorable night of all ASA events of the year!
•••••• ASA END OF THE YEAR FORMAL ••••••
►WHEN: Friday May 21, 2010
►WHERE: William Doo Auditorium @ University of Toronto
45 Wilcocks St. (Wilcocks and Spadina)
-5 minute walk from Spadina Station
►DRESS CODE: Semi- Formal
►ADMISSION: $20
►DOORS OPEN AT 7:00 PM
►DOORS CLOSE AT 9:30PM [No Entrance after 9:30PM!!]
**STUDENT ID OR PHOTO ID MANDATORY AGE LIMIT: 17-27 yrs old (unless providing a valid student id from university or college)**
►►HOW CAN I GET MY TICKETS?!?!?
Tickets are being sold for $20 you can purchase your tickets by calling (416) 886 2015– or you may reserve tickets by calling the same number. Contact ASA UofT for more information on how to get tickets.
**LIMITED TICKETS AVAILABLE TO FIT CAPACITY, SO HURRY AND GET YOUR TICKET BEFORE THEY'RE SOLD OUT!!**
For more information you can email ASA UofT at asa@utoronto.ca or call 416 886 2015.
★•★•★•★•★•★•★•★•★•★•★•★•★•★•★•★•★•★•★•★•★•★•★•★•★•★•★•★•★•★•★